"Since Americans seem particularly concerned with the "front " of their house, most suburban development homes are sited with their best face toward the public – without regard to the sources of sun, view, wind or topography. Whether it points north or south, uphill or down, the welcoming front façade and landscape lawn apparently must face the street, as if a failure to do so would impugn the owner's right to a claim of good citizenship.
The most peculiar part of this best-face-forward custom is the vestigial front door. Because so much of America's architectural DNA can be traced back to the Georgian and Federal styles, the predominant façade is most often based on a five-bay pattern – a pair of windows symmetrically flanking a center-hall door – which is rarely used. Our reliance on the automobile has meant that one end of a house is typically connected to a garage, and because it is convenient to do so, we go from the garage into the house by means of a secondary door – most often through the kitchen."
(Don Metz, Confessions of a country architect, Bunker Hill Publishing, p. 196).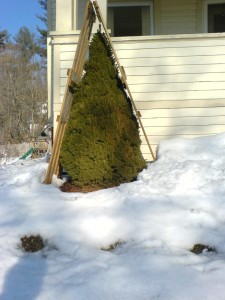 Hyperformatted design calls for remediation design. If you plant shrubs in front of the symbolic façade, but you live in a snowy part of the country, you may end up having to protect them from snow falling from the roof. These ingenuous defenses alter the aspect of the house – seasonally.